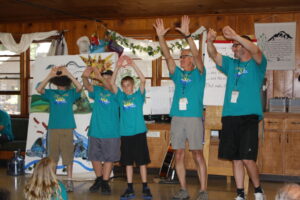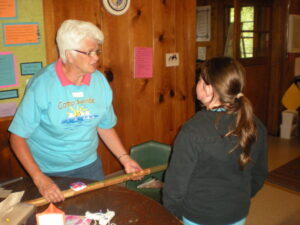 Camp Sunrise has been supporting grieving children longer than any other camp like it in Oregon. In addition to being the longest-running camp in the state, it is also the most respected camp. And as Central Oregonians, we are fortunate to have it in our backyard. 
Camp Sunrise began in 1998, and while our world has seen many changes over the past 25 years, the camp has been a stable resource for our grieving youth. In celebration of its 25th anniversary, we sat down with long-time staff and volunteers to highlight how Camp Sunrise has changed and has remained the same throughout the years. 
Larry Wright began volunteering at Camp Sunrise in 2001 at the request of his father-in-law, who had been a volunteer at the camp since its inception. 
"Camp Sunrise is absolutely, to this day, the most impactful and rewarding experience of my life," said Larry. "The children show up at camp on Friday afternoons like closed flowers. But each hour of camp that goes by, you see them opening up and becoming more comfortable."
Diane Kellstrom, former Bereavement Coordinator at Hospice of Redmond, became involved with the camp in 2004. We asked Diane how Camp Sunrise has changed over the years. 
"The basic premise has stayed the same. We bring children together to a place where they have a voice and can express their sadness with people who aren't afraid to hear it and can support their feelings." 
But Diane also shared how a child's grief has changed. 
"In the past, children weren't included in the grieving process. They didn't get a voice because it was thought they couldn't handle the big feelings that come with grief. As death became more personal to children due to experiencing the death of a parent, sibling, friend, or other loved one, the children became a part of the grieving process."
Diane and other long-time Camp Sunrise volunteers saw the need grow over the years from schools and local therapists who would identify a child who could benefit from the camp experience. 
Sean Diez, a school counselor veteran for over 20 years, started at Camp Sunrise as a Cabin Counselor around 15 years ago. His professional experience as a counselor lends itself to an even deeper understanding of how a child grieves. 
"As a society, we don't know how to grieve well. We are told we can grieve for a week and then need to move on. Often adults struggle to process grief, and the kids see this and don't know what to do. And sometimes, the kids have to take on the caretaker role for their family. Camp Sunrise is a safe place for children to express their emotions – even for a short time – and that is one of the things I love about it."
Small Groups Make Magic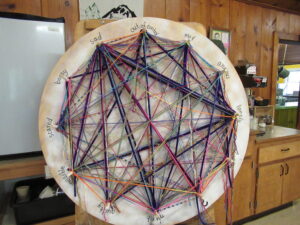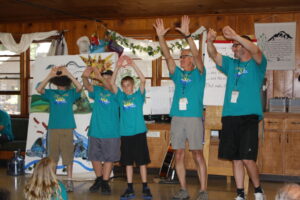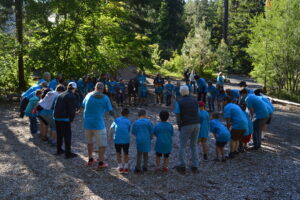 The camp allows children to express grief through music, art, and small group discussions. Often, the magic happens within the small cabin group a child is assigned to.
"Kids are assigned to a cabin group and are placed with kids around the same age," said Sean. "There are two cabin counselors per cabin who are with them throughout the camp. This becomes their home base, and they go through activities and get to know each other. The cabin counselors walk them through the activities, and they even eat meals together."
Sean sees the small group work they do as the heart of the program. The counselors spend a lot of time building relationships with the children so they feel safe and can open up and do the work of grief, understanding, and honoring their loved ones. 
Larry agrees. With his tenured experience, he molds the activity to what the children need at that moment. 
"Every single camp is different. The feel of the camp is driven by the children and the things they've gone through. So, I have learned not to focus on a child's background and not have expectations. Being present is helpful for not forecasting what will happen or what could happen. Our job is to be there for each other as counselors and leaders."
Power Sticks and Boats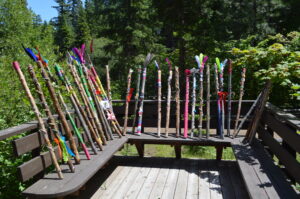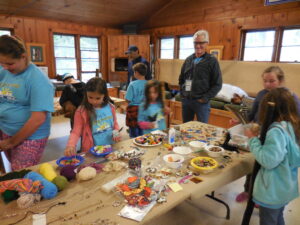 There are some tried and true activities that are genuinely life-changing. Two activities that stand out to Diane are when the kids create power sticks and release handmade boats into the river. 
"The power sticks are connected to the person who died and are decorated by the child with memories of that person," said Diane.
Part of the process is explaining to the child that even though their loved one is gone, their love will continue growing in their hearts. The power sticks give the child strength to move beyond their grief.
"The stick provides them with the power of love to recognize that the love is always there with them so they can move ahead and have a beautiful life," Diane adds. 
And power sticks remain powerful for years as children tend to keep them. There are Camp Sunrise counselors who attended the camp as a child who still have their power sticks. They continue to draw strength from them. 
Releasing boats into the river is a way to say goodbye. Often children didn't get to attend the funeral of their loved one, so they didn't get to say goodbye and have the physical expression of saying goodbye. The child decorates the ponderosa bark boats with natural elements, such as leaves, twigs, and pinecones, and then releases them – the person – back into nature. It is a way for the child to say thank you for loving them. And then the child sets them free. 
"Every activity at Camp Sunrise is intentional and thoughtful to help kids understand grief and what they're going through, and they can express those feelings throughout the camp," said Sean.
Expanding Camp Sunrise's Reach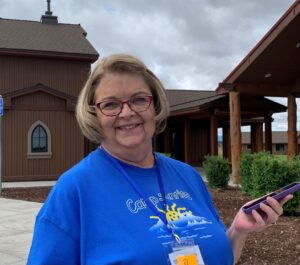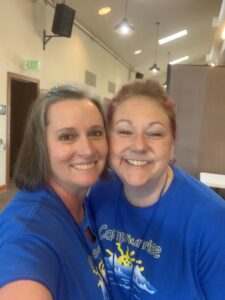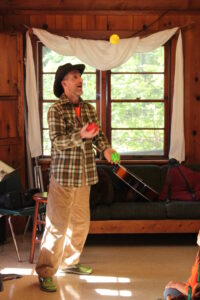 The foundation of Camp Sunrise has stayed the same throughout the years because it works. Little adjustments have been made, but the main activities of the camp have been consistent. 
Diane retired in 2022 and passed the torch to new Bereavement Director Kat Rachman.  Since Kat joined Hospice of Redmond, she has made some changes to help more grieving children.  
"While we have no intention of changing our overnight summer camp for kids aged 7-14, I plan to build on the success we had last year with our day camp model to increase access to even more kids in the future by offering what I'm currently calling, Sunrise Sessions," said Kat. 
Kat's goal is to offer Camp Sunrise's legacy of grief support to an even wider age range of kids more frequently throughout the year.  
"As I've talked to dozens of parents during the registration process this year, it has become clear that creating additional day camps will allow more children the same opportunity for healing in a safe and supportive environment," Kat added. 
Families from outside of Central Oregon have requested to have their kids participate in the camp. 
"There is a great need in Central Oregon and beyond, and I hope all grieving children who need this resource will have the opportunity to feel the warm embrace of Camp Sunrise," said Kat.
While a lot has changed over the past quarter century, one thing remains constant, and that is that children need support when grieving the loss of a loved one. Taking time for grief is critical to moving forward in life. Thanks to the staff and volunteers of Hospice of Redmond, more children can learn to process their grief in a safe and healthy way so they can go on to live happy and productive lives.