Everyone finds their way to hospice one way or another. Often, a friend or family member's terminal illness provides the first introduction. That experience plants an extraordinary seed in the hearts of those impacted. We love it when that seed grows into a beautiful flower that brings peace, comfort and help to those who need it most. 
In honor of Volunteer Appreciation Month, we wanted to highlight some of our wonderful volunteers by sharing their personal "why be hospice volunteer" stories. We interviewed our volunteers and shared their feelings. We hope it helps you understand these very special people better. If you're interested in becoming a volunteer, we'd love to meet you.
The Hospice Flower Project – Introducing Robyn & Rachel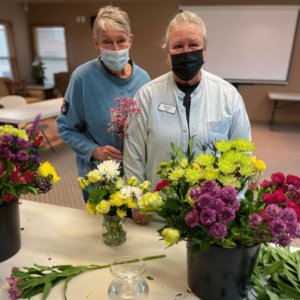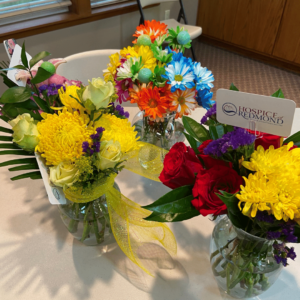 On the first and third Monday of every month, Fred Meyer generously donates "spent" flowers to Hospice of Redmond for an extraordinary project – the Flower Project.
To Robyn, a hospice volunteer, the flower project is how she and her sister Rachel volunteer their time serving at Hospice of Redmond. To celebrate Rachel and Robyn, we asked them to share why they chose to volunteer with hospice. Here's what they shared:
Rachel: "We had several family members on hospice care at some point and that experience, while difficult, was always positive. I knew I wanted to do volunteer work and travel when I retired. I started volunteering in 2015, just a few months after retiring. I do many different things with Hospice of Redmond, which allows me to help in various ways, such as doing face-to-face visits (now that we can again) and the Flower Project. My sister and I learned how to arrange flowers from their mother, who eventually became a floral judge, traveling to county fairs all over Eastern Oregon to judge flower arrangements."
Robyn: "My sister, Rachel, encouraged me to volunteer. I was a part of the Blooms Project in Bend, and I love anything to do with flowers. Our mom used to take us to the fairs and explain why some arrangements were good and why some weren't. My mom would have loved to be a part of the Flower Project. For every flower I stick in a bouquet, I say that someone will love this just as my mom would. I hope that these arrangements give someone a little bit of sunshine. Hospice touches everyone's lives somehow – even if it is just through a bouquet."
A New Leash on Life – Introducing Terry and Reba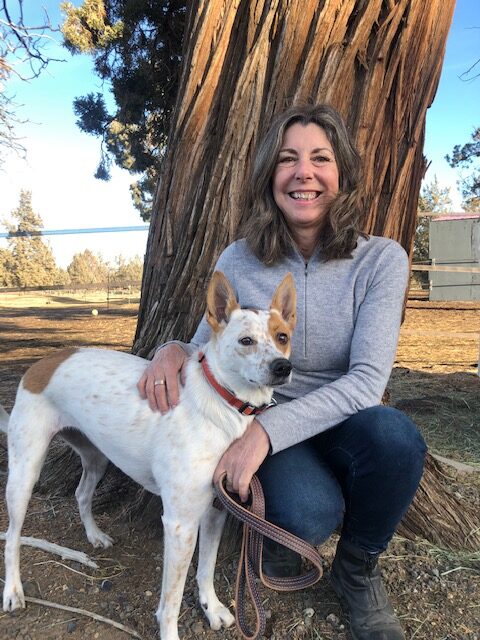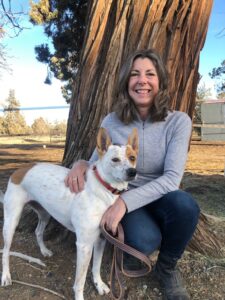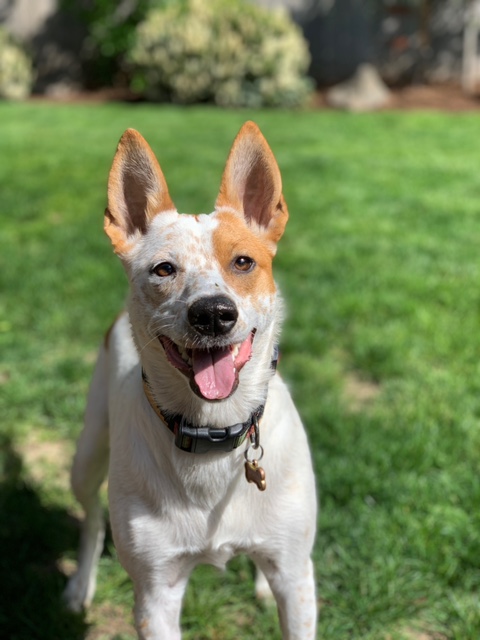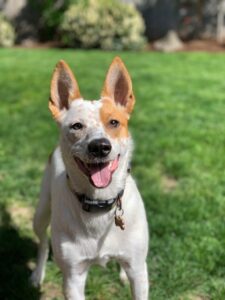 Abandoned by the side of the road in Bakersfield, CA, Reba's prospects looked quite grim. Thankfully, an Oregon rescue organization plucked Reba and her sister up and brought her to Portland for a chance at a better life.
And that's how Reba met Terry.
Upon seeing a picture of five-week-old Reba, "She had me at ears." Terry adopted Reba, primarily a Cattledog mixed with Boxer and Terrier, and their lives have been remarkable ever since.
But when Terry's father was admitted into hospice in August of 2020, Reba found her calling.
"She came into my dad's room the first day he was admitted, and she jumped up on his bed, cuddled up with him, and never left him."
During her father's stay, Reba and Terry would make the rounds saying hi to everyone in the facility. When Reba wasn't making visits, she was with my dad. Reba's deep love for people and strong intuitive nature prompted Terry to go through formal training and have Reba registered as a therapy dog, which Reba passed with flying colors.
After Reba was registered, Terry learned that Hospice of Redmond needed pet therapy volunteers and was paired with a mentor who has been doing pet therapy for 20 years. Terry felt this was an excellent example of how the community revolves around hospice volunteering.
Terry's mom also went through hospice in 2013, and her experience, while challenging, was lightened through the care and compassion of "hospice angels."
Leadership and Connection – Introducing Ken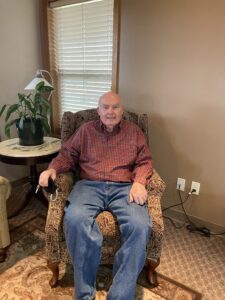 Some of our volunteers enjoy giving their time so much that they give and give. Ken is a perfect example of this, serving on our Board and providing direct patient care. But Ken's path to hospice, much like many of our amazing volunteers and even employees, is one that was tough at first.
Ken's wife was placed on hospice and passed away about four years ago. Having never experienced hospice before, Ken was impressed with the terrific care his wife was provided and committed himself to become a volunteer. A former attorney, Ken dedicated much of his free time to serving on various Boards and volunteering, including Parkinson's Resources of Oregon, CASA, and Cascade Theatrical Company.
In March of 2020, after serving on the Board for Redmond Senior Center, Ken was recruited to serve on Hospice of Redmond's Board of Directors. He was also trained to be a volunteer and work with patients. But then COVID-19 happened, and he couldn't spend time helping those receiving hospice care outside of sending cards to patients.
Thankfully, restrictions have lightened, and Ken can now get out and see patients. He enjoys sitting down and conversing with the patient and getting to know them. COVID has taken loneliness to new levels, and we are so grateful to have volunteers like Ken who bring much light into dark times.
Hospice "Runner" – Introducing Connie (and Tana)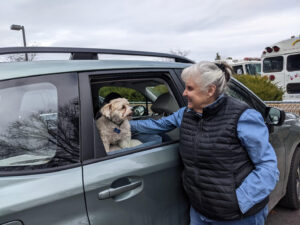 Ten years ago, Connie and her husband Doc, a large animal veterinarian in Brothers, OR, were in the process of building a solar cabin on their ranch when he began not to feel well. They went to the doctor and found out he had pancreatic cancer. They knew that taking care of the ranch wasn't an option, so their children stepped in, and Connie and Doc moved to Sisters.
"He lasted longer than most people would – nine months. For the last few months, Hospice of Redmond was there. I can't express how delightful, helpful, and caring they were. We needed to manage his pain and nausea for the last 17 days of Doc's life. When we ran out of medicine, someone came and dropped off the medication and then left. This was my introduction to what I wanted to do in hospice. I can't speak more highly of our experience."
After Doc passed, Connie had to take some time to grieve but was eager to give back and begin volunteering.
"I have now been volunteering for more than nine years. My daughter jokes that her mom is doing well and is a runner for hospice on the weekends – providing much-needed medication to patients on service. I love taking my time and driving to Redmond, Madras, Prineville, Crooked River Ranch, Bend, Sisters, and everywhere in between. It is so rewarding to be helpful at such an important time. I get so much more out of it, I think than the folks I am assisting. It is just a feel-good, wonderful experience."
The Volunteer Coordinator – Introducing Tania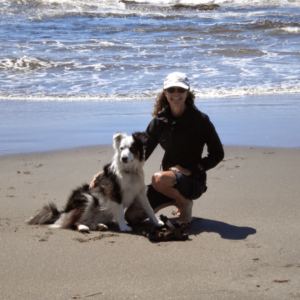 Tania first discovered hospice in the late 90s, after her mother and grandfather spent years taking care of her grandmother at home all by themselves. They did this right up until the day before she passed, when they got scared and took her to the hospital.  It had been agonizing watching what they went through to keep her home all that time with no help. Seeing her family spend their final time together in a very foreign place left her feeling that her grandmother's passing could have been kinder, spiritual, and even beautiful.
Hospice didn't exist where she lived in Arizona. She learned about it after hearing a speech about hospice by Susan Goldwater, the wife of the late senator Barry Goldwater.
Tania quickly became a hospice volunteer and was able to see deaths that were all the things she had wished for her grandma for many years. She went back to school to get her Master's degree in Counseling/Psychology and then began to work in hospice bereavement. Tania holds advanced certifications in grief counseling and is a certified pet loss therapist. For years, Tania and her Australian Shepherd/Border Collie mix, Popeye, offered pet therapy services to seniors throughout Bend. Popeye is retired now, but you can see Tania and him in the picture taken on the beach.
Today, Tania says she has the very best job as she gets to work with amazing volunteers who are making such a big difference in the lives of others. According to Tania, "There's something to be said to have a community and be in service to another and feel needed and wanted. This position combines all of those into one."
After being shut down for two years due to the pandemic, Hospice of Redmond volunteers are finally able once again to go out and see patients, which delights Tania. She has increased their volunteers by 47% since she began recruiting earlier this year. Tania has also implemented a computer program that allows volunteers to track their hours, sign up for shifts, and communicate with the rest of the team.
Thank you, Robyn, Rachel, Terry, Ken, Connie, Reba, Tana, and all the other Hospice of Redmond volunteers and hospice volunteers across the globe. Your work is critically important, and we would not be here without your kind and generous donation of time, compassion, and love.